Her på Blåvand's blog bringes korte nyheder i dagbogsformat om livet og hændelser på fuglestationen.

Se indlæg fra år: 2023 (249)2022 (265)2021 (276)2020 (279)2019 (247)2018 (211)2017 (276)2016 (118)0 (1)(se alle)
Se indlæg fra måned: jan. (15)feb. (1)mar. (31)apr. (29)maj (30)juni (31)juli (22)aug. (28)sept. (30)okt. (30)nov. (17)dec. (1)


A slow but fully-staffed start today!
tirsdag 1. marts 2022
Standard bird counting and ringing has commenced for Spring 2022 at Blåvand.
This morning I started early with opening all the mist nets, overall sheltered with a moderate southerly wind of 9 m/s. Being my second time here in Blåvand (was here ringing in March 2019 - too long ago!), I knew my way around without trouble in the dark, and rightly assumed that the wind direction would be fine at the various net sites. By the time the nets were open it was half an hour left to sunrise, so soon after the net rounds begun for the first day of this season! Xenia joined us for the whole morning, especially helping during a few hours of potential light rain (in the end this resulted in very, very few rain drops over the course of the morning). We ringed just one bird, a Dunnock, at the lighthouse garden. Otherwise three recaptures completed the ringing (Great Tit, Tree Sparrow, Wren) by lunch time. Overall very few passerines were seen or heard, yet single Blackbirds, Skylarks, Blue Tits and Goldcrests were seen/heard.
A change from my last visit to this observatory is that there are two counters based here for all the season, Menno and Bello. Both set out just before sunrise to count birds, looking out from the beach for anything migrating. They had relatively few birds moving, which much alike the ringing is expectedly calm this early in 'spring'. Still, they got to observe a few Red-throated Diver (109), Common Scoter (876), Velvet Scoter (42) and Long-tailed Duck (51). A couple of Brent Goose and two Goldeneye were spotted too, while a Yellowhammer was heard. Snow Bunting, Sanderling and numerous gulls were seen along from their viewpoint. On a short walk, Bent later had a few Teal and Wigeon just off the beach in the afternoon, plus two Stonechat (a male and female).
A note from my end - I am only here for a fortnight, however I might be back later during spring to assist with the ringing for a couple of weeks. Menno and Bello both arrived on Sunday, and this evening ringing assistant Leona joined us at the station.
See you around and do look out for the first signs of spring migration!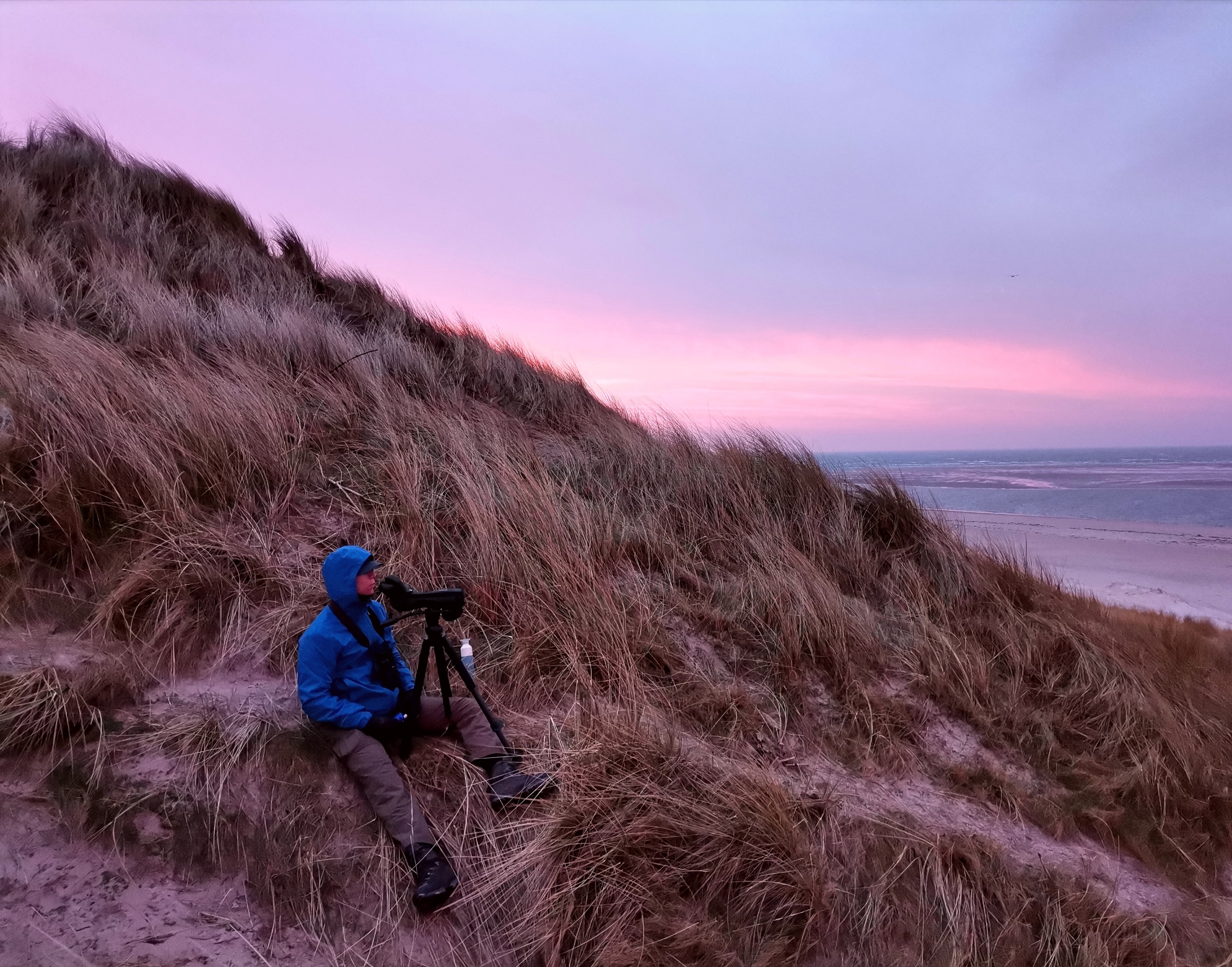 Menno starting the observations this morning. Photo by Bello.
Ringing list (new bird/recapture):
1/0 Dunnock
0/1 Wren
0/1 Great Tit
0/1 Tree Sparrow
DOFbasen list:
https://dofbasen.dk/search/result.php?design=table&soeg=soeg&periode=antaldage&dage=10&omraade=hiddenlok&hiddenlok=555209&obstype=observationer&sortering=dato
Folk på stationen: Bent, Svend, Xenia, Menno, Bello, Leona, Timmy