Her på Blåvand's blog bringes korte nyheder i dagbogsformat om livet og hændelser på fuglestationen.

Se indlæg fra år: 2023 (187)2022 (265)2021 (276)2020 (279)2019 (247)2018 (211)2017 (276)2016 (118)0 (1)(se alle)


Of Feathered Friends and Danish Culture
fredag 15. september 2023
After Anton had opened the mist nets, Louis, Frida, and I set off towards the sea for our daily morning observation. The weather was sunny with a temperature of 15 degrees Celsius and a southern wind reaching up to 8 m/s.
The wader migration appeared to be rather sluggish, tallying a total of 101 Oystercatchers (Strandskade), seven Dunlins (Almindelig Ryle), three Red Knots (Islandsk Ryle), six Turnstones (Stenvender), one Ruff (Brushanne), one Red Shank, and one Golden Plover (Hjejle). In addition, we spotted 869 Common Scoters (Sortand), three Velvet Scoters (Flöjlsand), 26 Teals (Krikand), 26 Wigeons (Pibeand), and three Red-breasted Mergansers (Toppet Skallesluger). During the last period of standard time, we were fortunate enough to see a Merlin (Dvaergfalk) sitting on the beach, arguably the highlight of the day.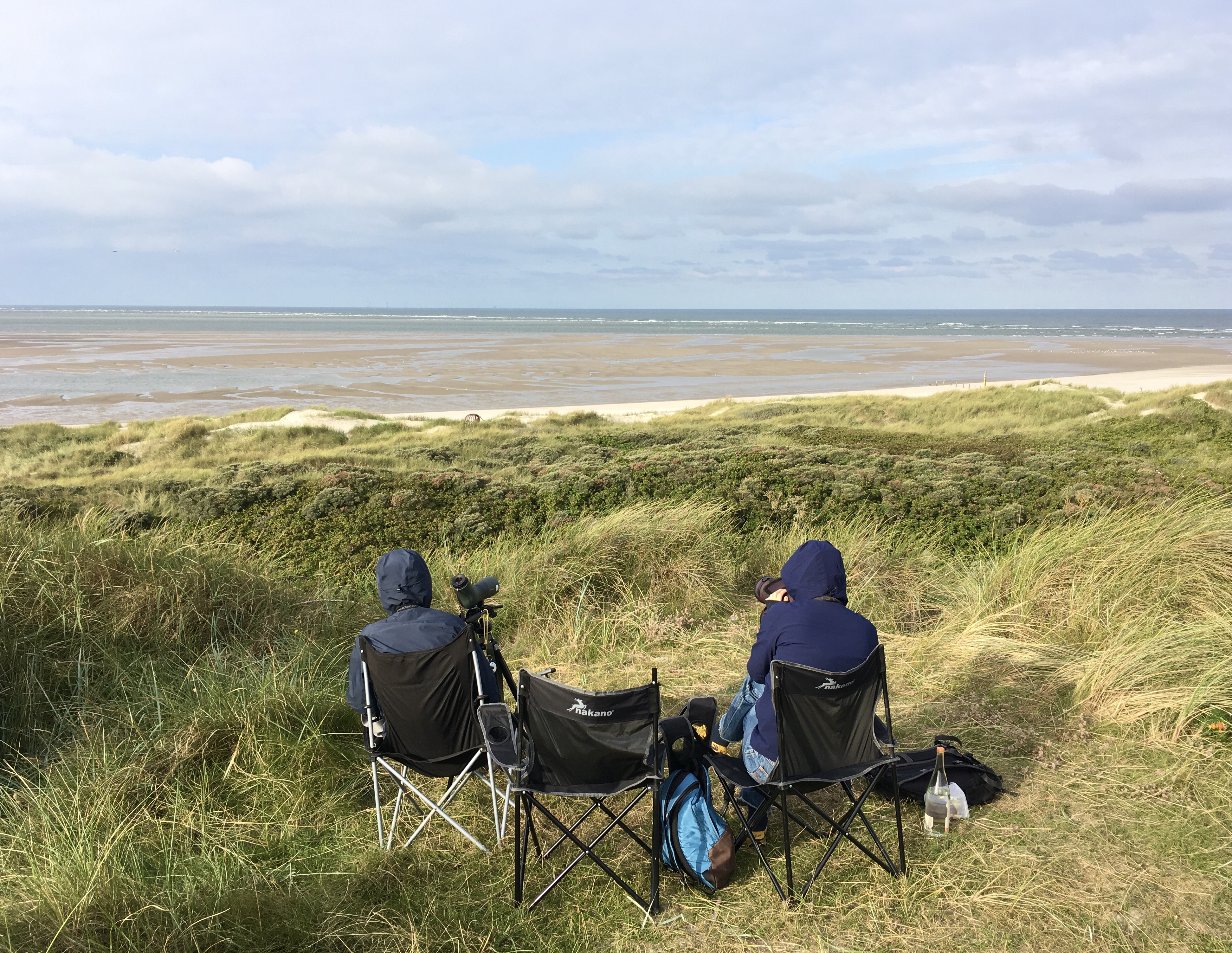 Observation spot from today
We returned to the station around 10 o'clock, at which point I joined Anton for a few net runs. During these net runs, which was an immensely exciting experience. In total, we managed to catch 15 birds today, including three Robins (Rödhals), one Lesser Whitethroat (Gaerdesanger), one Garden Warbler (Havesanger), two Eurasian Blackcaps (Munk), three Willow Warblers (Lövsanger), two European Pied Flycatchers (Broget Fluesnapper), one Blue Tit (Blamejse), one Great Tit (Musvit), and one Yellow Hammer (Gulspurv).
We closed the nets at 11:30 AM, returned to the station, and savored pancakes for lunch while basking in the delightful weather outside. Later on, Frida and I took a refreshing swim in the sea and spent some more time on the beach, listening to Danish music. We had an absolute blast!
To cap off this wonderful day at the Fuglestation, Louis prepared some delectable Røsti's with a homemade tomato sauce for dinner, which all of us thoroughly enjoyed. We talked about the weather forecast for tomorrow, Danish culture (such as Holger Danske), and shared a few hearty laughs. It was truly an amazing day!
People at the Station: Anton, Louis, Frida, Joseph