Her på Blåvand's blog bringes korte nyheder i dagbogsformat om livet og hændelser på fuglestationen.

Se indlæg fra år: 2023 (107)2022 (265)2021 (276)2020 (279)2019 (247)2018 (211)2017 (276)2016 (118)0 (1)(se alle)


Hypothesis (i) rejected
torsdag 18. maj 2023
Finally, the strong wind has decreased again, so that we could open the nets for ringing again today. Henrik came early in the morning and took over the Stationshaven, while I did the rounds in the Fyrhaven. It was a day with very few birds, so we could do a little birdwatching between the rounds.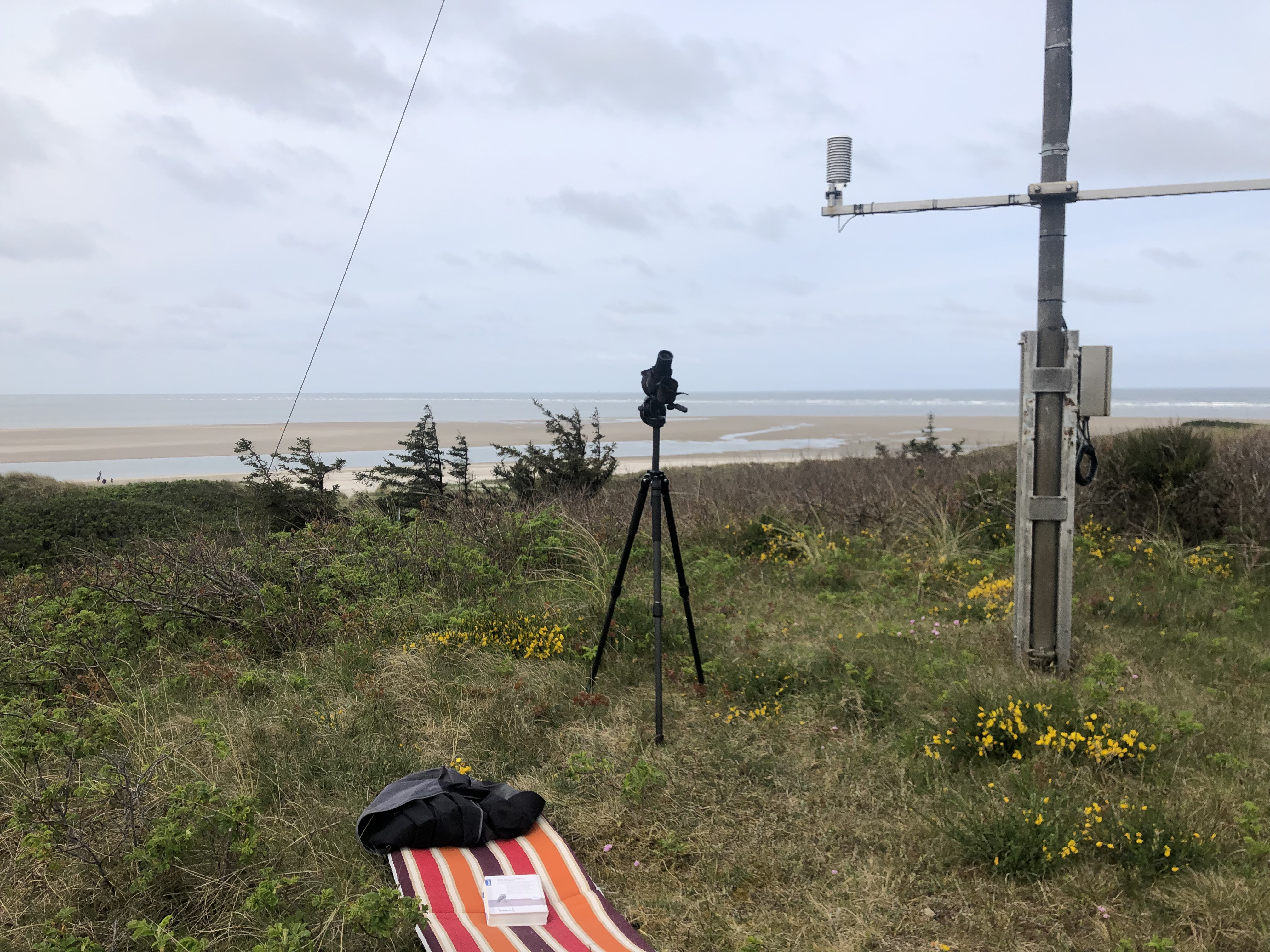 My little cozy installation in the Fyrhaven.
Henrik watched the morning migration in between and could count about 300 Red-throated Divers (Rødstrubet Lom) and see three Arctic Skuas (Almindelig Kjove). We both could also hear and observe a Serin (Gulirisk), resting in the Fyrhaven on top of a tree. After eight empty rounds, I closed the nets in the Fyrhaven and lastly caught a Lesser Whitethroat (Gærdesanger) in the Helgoland Trap. So, Morten, your theory that a special bird would come when you leave is rejected! At least for now…
Today's ringing data: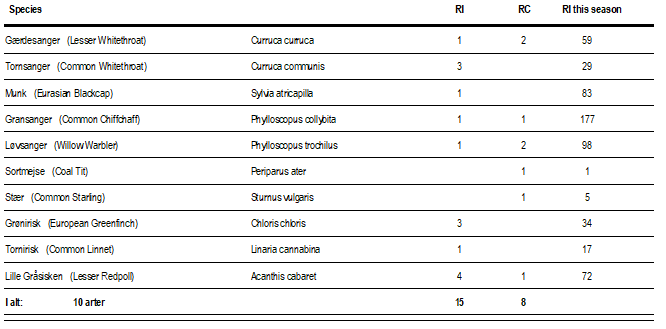 Henrik got a visit from his wife and friends today and he showed them a bit of ringing. After lunch we all headed out to the Little Tern Fence armed with two shovels to clear the electric fence of sand. Since there were so many of us, we were able to take turns and save our strength.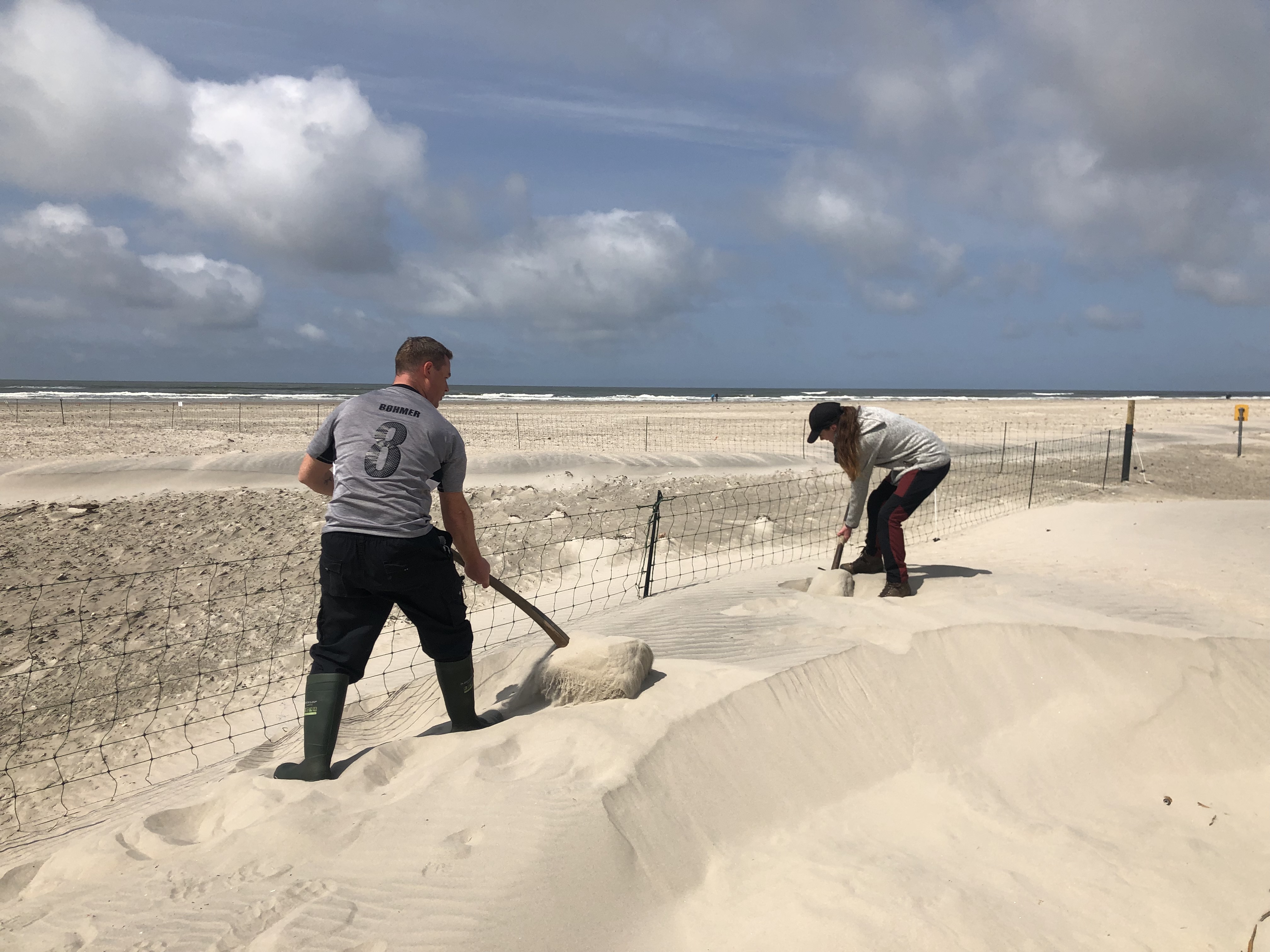 When they had left again and I was alone at the station, I set off on a little bike ride to Hvidbjerg Strand. It was nice to do some cycling again and I could also see some resting Eiders (Ederfugl) on the sea. I arrived at the station pretty much at the same time as David, who will do the morning observations tomorrow.
Fiolk på stationen: Henrik with family and friends, David og Amelie