Her på Blåvand's blog bringes korte nyheder i dagbogsformat om livet og hændelser på fuglestationen.

Se indlæg fra år: 2022 (142)2021 (276)2020 (279)2019 (247)2018 (211)2017 (276)2016 (118)0 (1)(se alle)


MEGA!!
søndag 15. maj 2022
Moltoni's warbler, first for DK
Today was a day without much wind, resulting in a rather slow seawatch for Mikkel. Because of the low wind speeds, I was able to open up all the nets. There were enough birds to keep walking between both ringing sites. Highlights were a pair of goldfinches and some more pied flycatcher. Next to that we also had some recaptures which were ringed last year, good to see that they are all doing good. The two lesser whitethroats have done a retour Africa, quite amazing to think about that.
After some rounds with low numbers in the nets, Bent put out on Zello that he had a subalpine warbler singing in the bog. I quickly closed all the nets and arrived as 4th, since Bello and David were already there. It was quite mobile, but always returned to the same place. After a few times the worn primaries and bleak appareance pointed us towards Moltonis warbler. When we heard a rattle call, we knew that we had jackpot. After Bello got back to the station to send out the recorder call, all twitchers in Denmark got in action. Moltonis warbler is a first for Denmark, so if you are fanatic about your Danish list, you definitely should twitch it.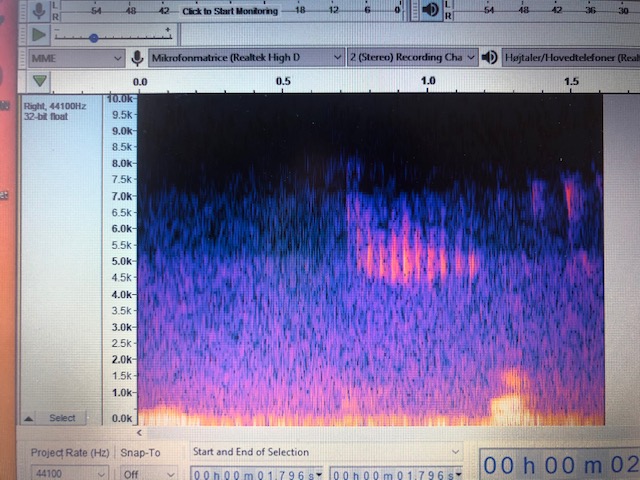 Photo of the sonogram of the rattle call – Picture by Bello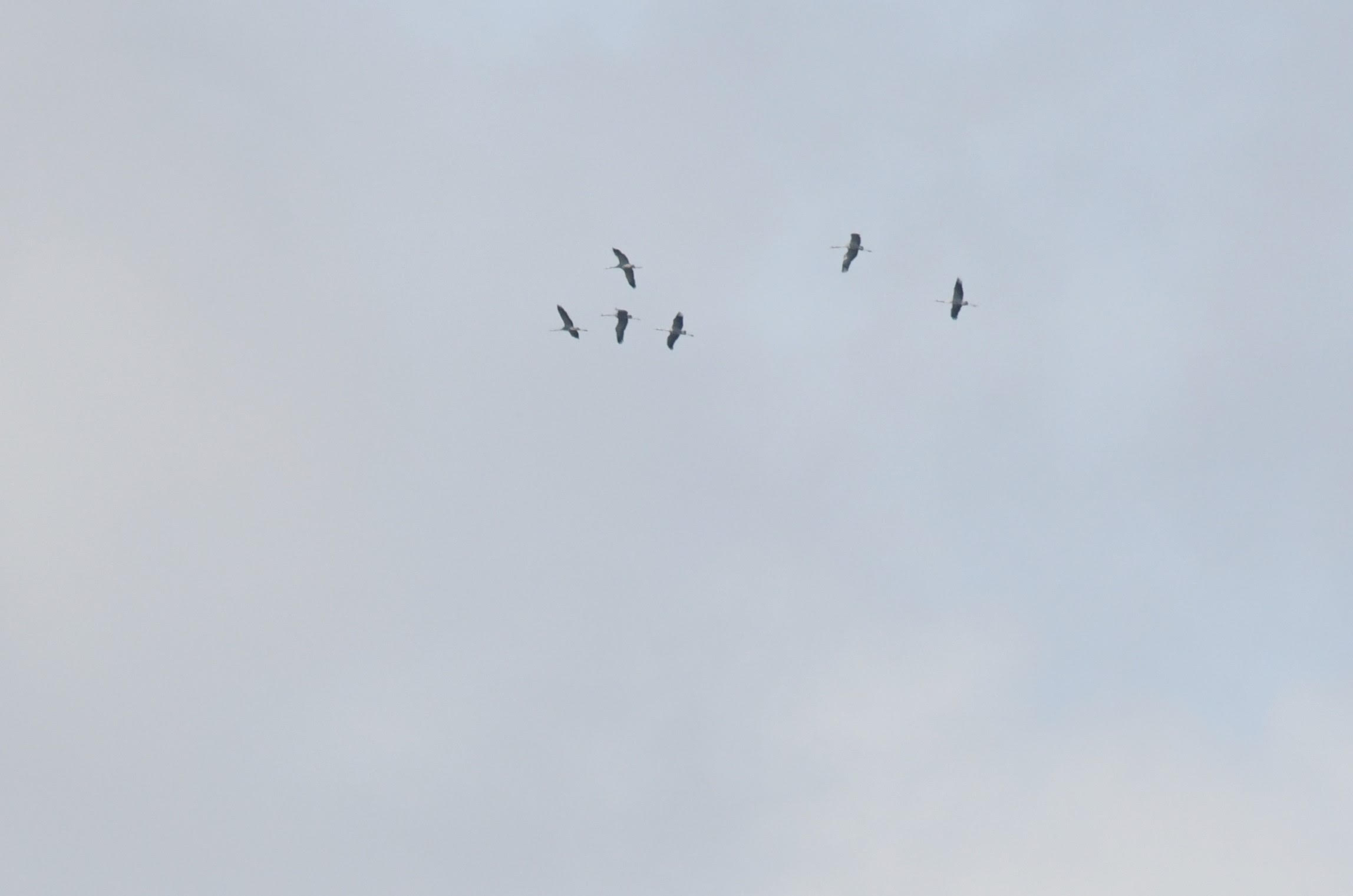 Photo of the Moltoni's warbler – Photo by Maria Rasmussen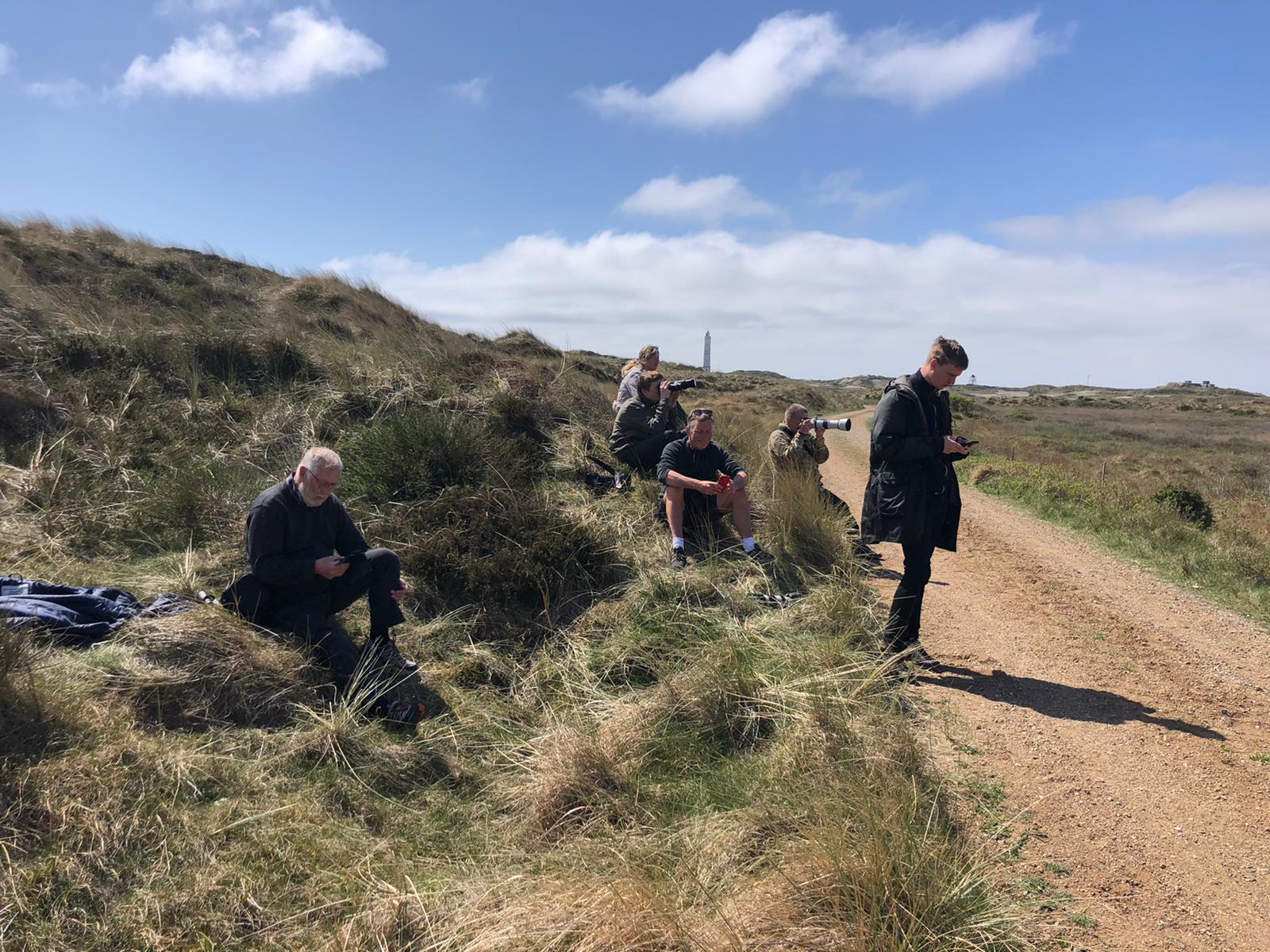 Photo of the twitch
We think that Bent will write a bit about it since it is a new species for Denmark. When that article is out, we will place the link here as well, so the readers of the blog will get an impression how he experienced the second find of a first of the country.
After I got back, I decided to open the nets again. Although it is not comparable with this mourning, we managed to get a new for the season, a wood pigeon! Luckily Bello was in the around to help me with the measurements.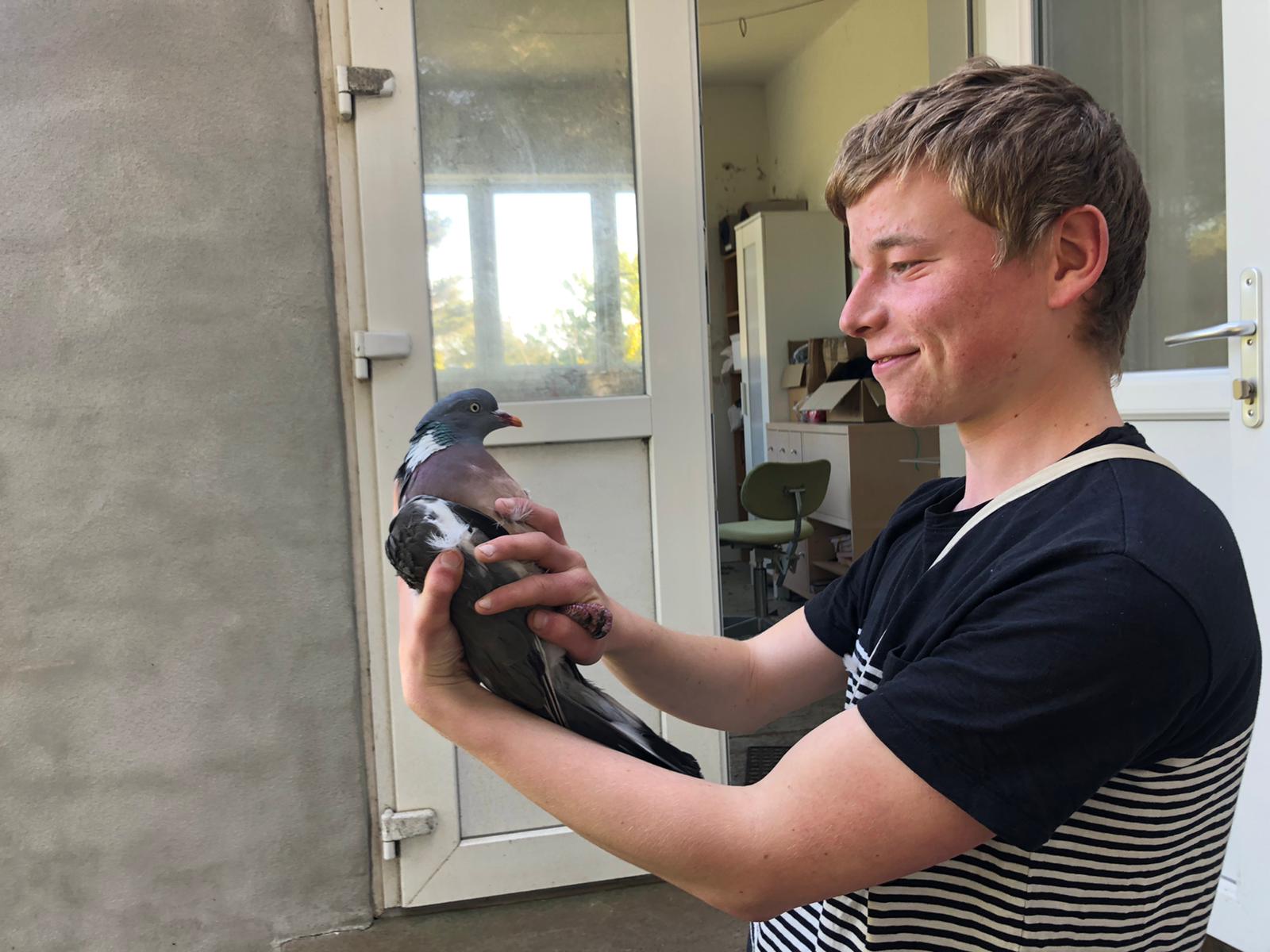 Photo of me with the wood pigeon – Picture by Bello
Ringing totals:
Wood pigeon (1/0)
Wren (0/1)
Redstart (1/0)
Blackbird (1/0)
Sedge warbler (1/0)
Lesser whitethroat (0/4)
Common whitethroat (2/0)
Garden warbler (1/0)
Chiffchaff (5/2)
Willow warbler (7/0)
Pied flycatcher (8/0)
Coal tit (0/1)
Starling (1/0)
Chaffinch (1/1)
Goldfinch (2/0)
Linnet (2/1)
Lesser redpoll (2/1)