Her på Blåvand's blog bringes korte nyheder i dagbogsformat om livet og hændelser på fuglestationen.

Se indlæg fra år: 2023 (98)2022 (265)2021 (276)2020 (279)2019 (247)2018 (211)2017 (276)2016 (118)0 (1)(se alle)


Bonjour un autre torcol fourmilier!
tirsdag 26. april 2022
In the beginning there was nothing. Or more prosaically saying, first round after opening the nets today was completely empty. We were quite scared that the rest of the day would look the same. Luckily, our fears were unfounded, and next rounds even managed to bring us some unexpected joy. The brightest highlight of the day was a Chiffchaff, or should I say Pouillot veloce, as it already had a French ring on a leg! Bird banding indeed is a wonderful activity because of so many things, like being in touch (quite literally) with the nature, constantly learning, getting to see so many different species from such a small distance, meeting so many amazing people and so on, but it is the recoveries like this that remind us why we are doing it. Collecting data about migration is one of the essential things that we learn by bird banding.
Of course, there were some other nice birds today, like for example a Tree Sparrow, that doesn't get caught so often as we would expect. Moreover, I can't say that we are bored, but for sure we are beginning to be used to Wrynecks - today we ringed three another ones. I am sure that we are all getting better in ageing them and don't think we could be in a better place to gain this experience right now. We also liked the Yellowhammer very much, as it was so colorful and pleasant to look at!
In terms of the seawatch, Mikkel did not have any super spectacular observations today. That does not mean however that he did not see anything. He sighted Little Terns and some migration movements of Divers. Other than that, he had a lot of time and opportunities to watch confused Shelducks flying there and back again.
In the meantime Agata made a dinner that we ate about 4 pm, what seems extremely early for a dinner in Denmark, but is completely normal in Poland. We hope that all of our non-polish friends were pleased with it anyway.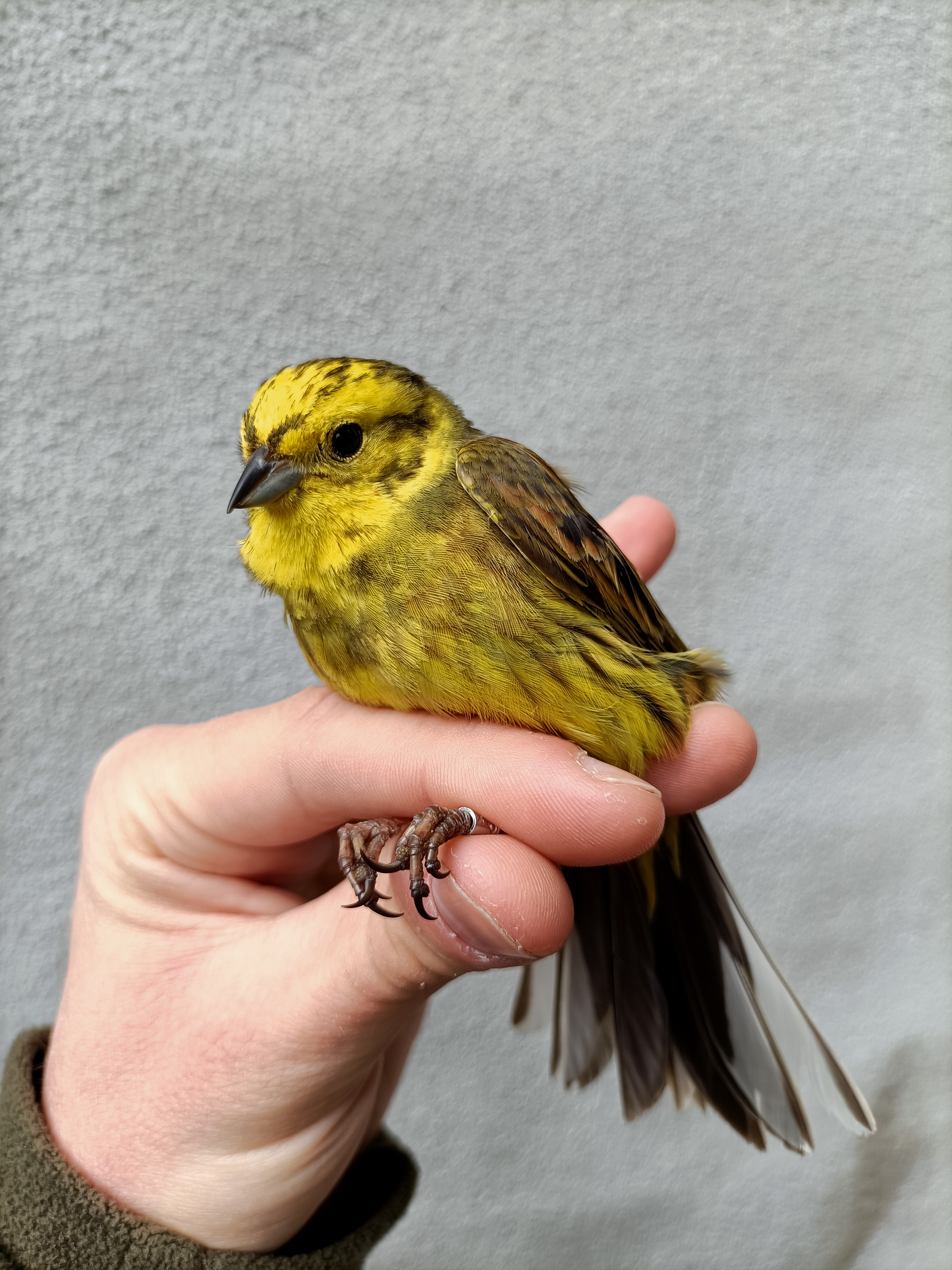 It is always astonishing to see from that close how incredibly yellow can be birds so common as the Yellowhammer. Photo: Maciej Wozniak
People at the station: Agata, Leona, Menno, Mikkel, Maciej
Complete list of birds caught today (ringed/recaptured):

Vendehals / Wryneck: 3/1
Gærdesmutte / Wren: 0/1
Jernspurv / Dunnock: 1/2
Rødhals / Robin: 1/4
Sangdrossel / Song Thrush: 0/1
Gærdesanger / Lesser Whitethroat: 1/0
Munk / Blackcap: 1/1
Gransanger / Chiffchaff: 3/2
Løvsanger / Willow Warbler: 2/1
Skovspurv / Eurasian Tree Sparrow: 1/0
Grønirisk / European Greenfinch: 1/0
Tornirisk / Linnet: 2/1
Stor Gråsisken / Lesser Redpoll: 1/0
Gulspurv / Yellowhammer: 1/0
Total: 18/14