Her på Blåvand's blog bringes korte nyheder i dagbogsformat om livet og hændelser på fuglestationen.

Se indlæg fra år: 2023 (249)2022 (265)2021 (276)2020 (279)2019 (247)2018 (211)2017 (276)2016 (118)0 (1)(se alle)


Confused by the summertime
søndag 27. marts 2022
Today the time changed into summertime because I was not really alert on this. I started opening the nets a 5:45, this was an hour earlier than needed. But this could be a nice change for catching a woodcock or a long-eared owl. Unfortunately, they did not enter the nets.
For the first time this season we found a bird in the Helgoland trap. The first time that we catch a bird in the Helgoland trap still must follow. The bird in matter, a dunnock, found a way out. But now we exactly know what to do if another bird turns up in the trap.
After the second round, I joined Bello for some time on the sea watch. After some time, we saw a slender looking lesser black backed gull. It also had a very dark and almost no white in the wing. These are all pointers toward a Baltic gull (ssp. fuscus), but it is hard to say because the variation in ssp. Intermedius can also show this. Only birds with rings from known colonies where ssp. fuscus breed can be safely identified. We could not find it back, so we could not check if it was ringed. The whole count resulted in around 1200 common scoters and around 350 common gulls going north.
Another first this season was a 2k female fieldfare. Fieldfares are in spring quite rare to be caught, the last time one was caught in spring was in 2016. Next to that, it was very nice to study this species in good detail. Although Bello was almost asleep, he managed to grab some nice photos of this bird.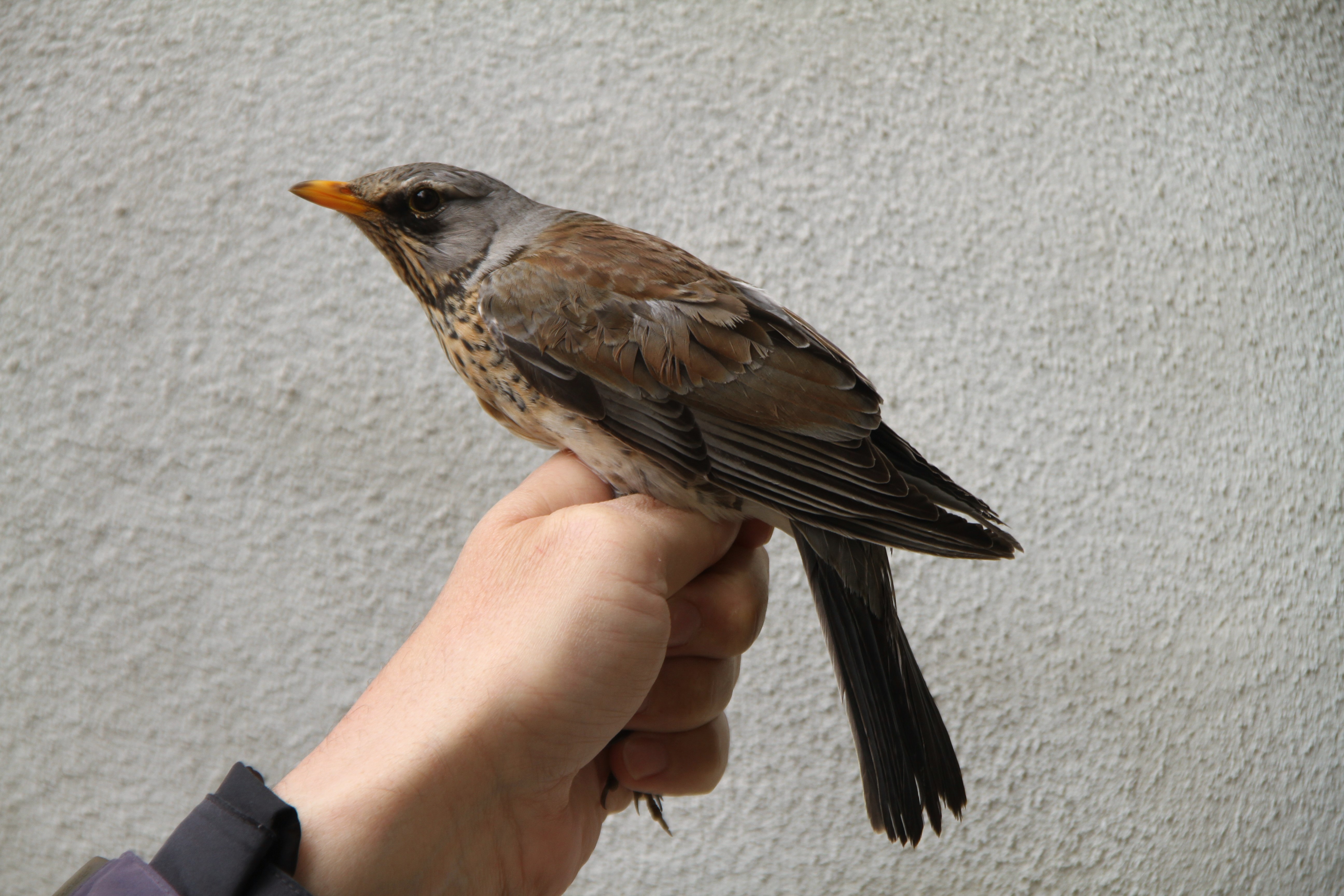 Fieldfare – Photo by Bello
Today we got visits from Sven and Svend. Sven was here because when he left yesterday, he still got a bag of Bello in his car after they birded together yesterday. Svend brought the new gull guide and some cake, so we have some good new literature to study. And had a talk over a cup of coffee and a piece of dagmartærte, a traditional Danish cake. The book will really help find a rare gull on the beach.
Morten said that there will be a chance that the Nothern lights might be visible today, so we did a try for that. We will share the result tomorrow on the blog.
Ringing list (new/recapture):
Dunnock (2/0)
Robin (1/1)
Goldcrest (0/2)
Blackbird (4/0)
Fieldfare (1/0)
Brambling (1/0)
Chiffchaff (1/0)
Great tit (0/1)
Redpoll (1/0)
Song Thrush (0/1)
13 new birds over 11 species.
DOF link: https://dofbasen.dk/search/result.php?design=table&soeg=soeg&periode=dato&dato=27-03-2022&omraade=stor&stor=607&obstype=observationer&species=alle&sortering=dato
People at the station: Bello, Morten, Sven, Svend, Bent and Menno