Her på Blåvand's blog bringes korte nyheder i dagbogsformat om livet og hændelser på fuglestationen.

Se indlæg fra år: 2023 (98)2022 (265)2021 (276)2020 (279)2019 (247)2018 (211)2017 (276)2016 (118)0 (1)(se alle)


Goldeneys on a grey day
tirsdag 9. november 2021
The Morningobs brought many ducks today.
Hello everyone!
This morning Jonas, Sebastian and I all set off together to the Morningobs, because it was once again too windy to open the nets. The hole offered us some shelter from the wind, but not from the rain, in between it drizzled again and again. But it wasn't too bad and it was quite an interesting observation. Many ducks were on the move: Goldeneys (Hvinand), Eiders (Ederfugl), Teals (Krikand), Mallards (Gråand). There were also Little Auks (Søkonge) and Guillemots (Lomvie), or Razorbills (Alk), but they were usually too far away to see the biggest difference, the shape of the bill.
After the Obs we returned to the station. Although I had put on three pairs of socks, my feet were frozen and so I tried to warm up with lots of tea while Jonas and Sebastian ate bread. It took me a little longer to feel warm and comfortable all over again. So I only ventured out again in the afternoon to go shopping and, the plan was actually to stop by the three masts for a quick jump to look for birds. However, I found two bikes with flat tyres in the shed. I thought about postponing the shopping until tomorrow, but Sebastian advised me to pump up the tyre again and pray and my prayers were answered, I got to the supermarket and back in one piece. So see you next time, flat tyre, because it won't be able to hold its air for long. And then it was already quite late that I hurried to get to the supermarket and after my shopping it was already dark. So no bird watching at all this afternoon. Well, at least I thought about the Blog before I went shopping and quickly took a look at the many sparrows in front of the supermarket. They are so trusting that I was even able to take a good bird photo with just my mobile phone camera, so that's a success. Well, a small one...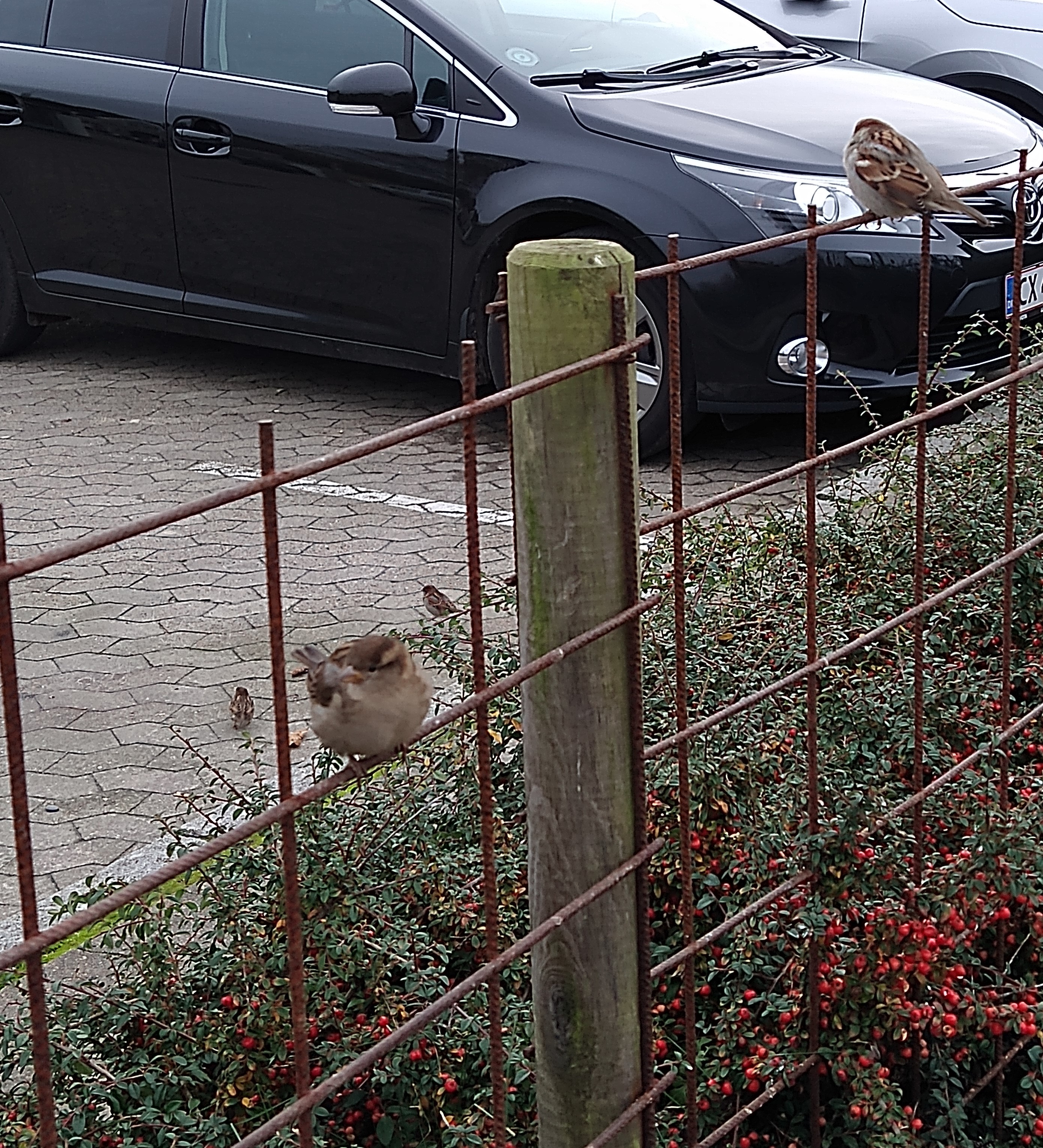 House Sparrows (Gråspurv)
Look at the head of the little guy looking into the camera. A female House Sparrow (Gråspurv), we nearly never have them in the nets, sometimes only Tree Sparrows (Scovspurv) get in the nets, but their heads look different, you see:

Yes, I found a pack of colored pencils at the station, and thought I'd draw a bit for you, since we already don't have any more interesting pictures from today.... Maybe tomorrow... Maybe of a bird a little rarer than the sparrow.... We will see. See you then!
People at the Bird Station: Sebastian Thorup Hansen, Jonas Pedersen and Hanelie Sidhu