Her på Blåvand's blog bringes korte nyheder i dagbogsformat om livet og hændelser på fuglestationen.

Se indlæg fra år: 2023 (198)2022 (265)2021 (276)2020 (279)2019 (247)2018 (211)2017 (276)2016 (118)0 (1)(se alle)


Blackbirds in the rain
tirsdag 19. oktober 2021
Despite rain a good ringing day with a visit from Ørneklubben
A wonderful evening everyone!
Don't be depressed by the grey sky and all the rain, at least you didn't get as wet in your cosy rooms as we did. Still, it wasn't a bad day today. Jonas ringed again today and Merit also supported us again. So we were four ringers, Jonas Merit, Luke and I, which was good, because in the first round and also still in the second round we were very busy. There were a lot of big birds in the nets today, expressing their displeasure at being caught in a net and having to be freed by humans, in an appropriately loud way. The most ringed bird today was the Blackbird, with a total of 27 blackbirds in the nets, followed by Song Thrush and Redwing. There was also a Firecrest in the net and soon we had a crowd outside the Lighthouse Lab, many from DOF-UNG, all wanting to see the little fellow with the fiery mop of feathers.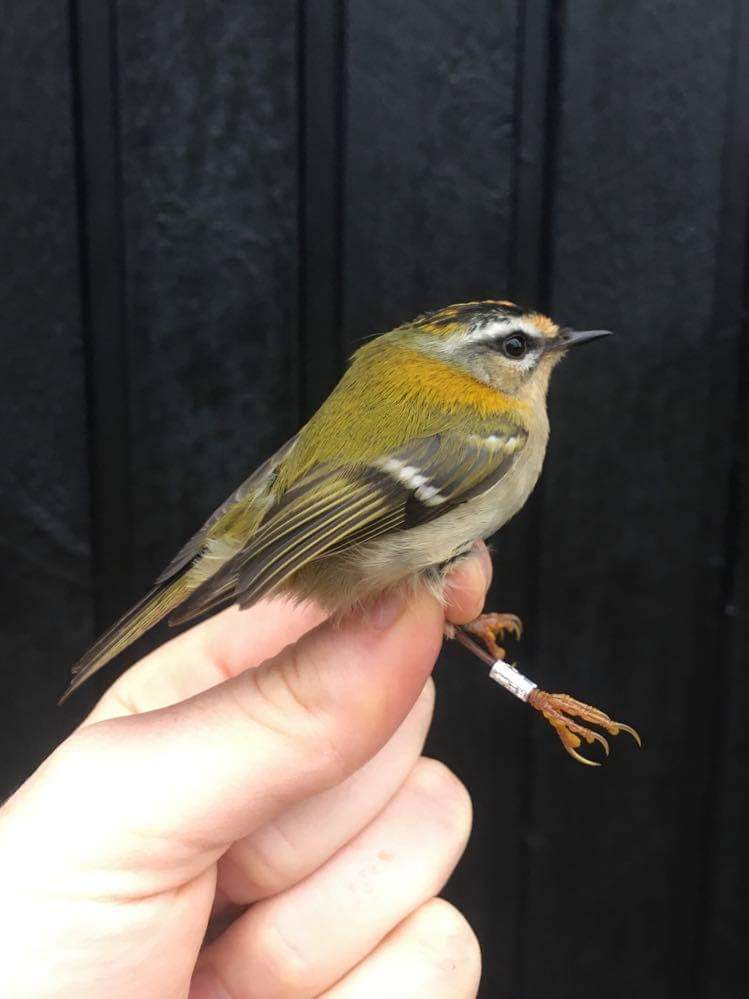 The Firecrest in Merits hand
In the morning Ørneklubben also came to see the ringing. Jonas led the children and their parents through the station and lighthouse gardens, showing and explaining ringing. After the standard time was over, we wanted to close the nets, but Bent came today with a lot of energy and good humour and wanted to leave them open to continue ringing. At noon we met Andras at the station, who had taken over the observation again today, while Sebastian was birding in the Bog and in Skallingen. Andreas reported many Grey Wagtails, Sebastian had no major highlights today after the brilliant find of the Radde's Warbler yesterday. For lunch, Sebastian and Jonas´ favourite lunch, Pasta Nuggets, was officially added to Merit's recipe collection, having also tasted a portion of this brilliant meal today. After we had eaten, Kurt offered to take us birding by car. Of course, we couldn't pass up this chance. Merit wanted to come too, but then Bent came in the door with a smile and many full bird bags around his neck and she decided to continue ringing with Bent and Luke. I heard it didn't last long after that though, because it was raining more and more.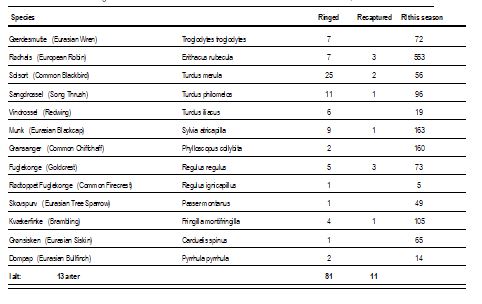 Kurt, Jonas, Andreas and I were in Skallingen in the meantime. The result of our excursion: We all got wet, Andreas' shoes were completely wet, I'm curious when he will be able to go out again with dry feet. But we did see something, it's not like that, and we also heard a lot of goldcrests and tits. Back in the dry, we relaxed a bit, Luke entered the data, and in the evening we went to the supermarket. Tonight we had home-made burgers. For some of us the day ends with football, others are already in bed. On that note, I too wish all blog readers a good night. See you all tomorrow. Tomorrow promises rain, let's see what else it brings.
People at the bird station: Bent Jakobsen, Sebastian Thorup Hansen, Luke Nelson, Jonas Pedersen, Hanelie Sidhu, Andreas Pedersen, Merit Lenk, Stefan Andersen, Lars Andersen, Lise Hykkelbjerg, Henrik Læssøe, David Manstrup and Kurt Willumsen